End-of-Summer Party w/ Cruz & GOGO Gadjet. Summer is slowly bidding us farewell. What better way to bid adieu to the season than with a spectacular celebration at Seacrets OC! On August 24, 2023, we're pulling out all the stops for our "Local's Party." An electrifying evening of music, dancing, and freebies. Join us for an unforgettable night featuring the dynamic DJ Cruz, the sensational Go Go Gadjet band. Plus, the refreshing Seacrets OC Tea by Hoop Tea. As the sun sets on this vibrant season, let's come together to revel in the magic of music, community, and the one-of-a-kind Lemon Drop Vodka crafted right here at Seacrets Distilling.
📅 Date: Friday, July 28th, 2023
⏰ Time: 9:00 PM onwards
📍 Location: Seacrets Jamaica USA, 117 49th St, Ocean City, MD
Live Music Extravaganza:
DJ Cruz: Spinning Stories Through Music
At the heart of Seacrets OC's entertainment legacy is DJ Cruz, a local sensation known for creating sonic landscapes that resonate with the soul of Ocean City. With an uncanny ability to read the crowd, DJ Cruz weaves together tracks that transcend genres and eras. Unifying generations on the dance floor. His sets are more than just music; they're narratives that tell the stories of countless unforgettable nights at Seacrets. As we bid farewell to summer, DJ Cruz promises to amplify the nostalgia and create new memories with beats that are impossible not to move to.
Go Go Gadjet: Igniting the Stage
No Seacrets OC celebration is complete without the explosive energy of Go Go Gadjet. Hailing from nearby Pennsylvania, this band has become a staple at Seacrets events. Go Go Gadjet ignites the stage with a performance that is equal parts concert and spectacle. The band's versatile repertoire spans across eras and genres, seamlessly blending hits from the past and present. With their infectious enthusiasm and dynamic stage presence, Go Go Gadjet transforms every event into an unforgettable experience. As the sun dips below the horizon and the stage lights up, be prepared to be swept away by the magnetic charisma and electrifying sounds of Go Go Gadjet.
Seacrets OC Tea by Hoop Tea: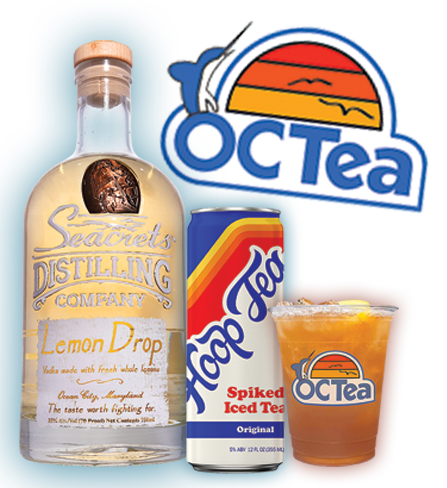 Amidst the pulsating beats and captivating performances, refreshment is key, and Hoop Tea's Seacrets OC Tea is here to deliver. Crafted to perfection, this tea is a harmonious blend of flavors that embodies the spirit of Seacrets OC – vibrant, lively, and utterly refreshing. When you're dancing up a storm or lounging with friends, Seacrets OC Tea by Hoop Tea is the ideal companion. And as a special treat, Hoop Tea is set to sprinkle the evening with free giveaways, ensuring that the memories of this night extend far beyond the event itself.
Don't Miss Out!
It's the End-of-Summer Party w/ Cruz & GOGO Gadjet. Mark your calendars spread the word, and go to Seacrets OC on August 24th for an unforgettable night. DJ Cruz, Go Go Gadjet, and Hoop Tea's Seacrets OC Tea await you in a celebration that captures the essence of summer, community, and the magic of Seacrets. The doors open at 9 PM – arrive early, bring your dancing shoes, and let's bid farewell to the season in style!