Are you ready to kick off your Labor Day Weekend in style? Look no further than Seacrets, the ultimate entertainment destination in Ocean City, MD. Get ready for two incredible nights of music, dancing, and pure entertainment that will have you grooving till dawn. Dance Drink DJ Cruz Summer 2023
Watch the Live Stream Here from Seacrets
📅 Event Schedule:
Friday, September 1st: Dance the night away with the electrifying beats of DJ Cruz and the infectious rhythms of Kono Nation Band. The party starts at 9pm and the energy will be non-stop!
Saturday, September 2nd: DJ Cruz returns to keep the party vibes going strong, this time accompanied by the sensational sounds of Dear Zoe band. Get ready to experience an explosion of musical talent that will keep you on your feet.
📍 Venue: Seacrets, 117 49th Street, Ocean City, MD 21842 🕘 Doors Open: 9:00 PM
🏖️ Seacrets: Where Entertainment Meets Paradise
Seacrets is not just a venue; it's an experience that takes you to the heart of an island oasis. Nestled right by the ocean, this sprawling entertainment complex offers something for everyone. With multiple bars, dance floors, and a private beach, Seacrets is the perfect place to let loose and create memories that will last a lifetime. From delicious food to refreshing drinks, Seacrets has it all.
🍹 Crafting Excellence at Seacrets Distilling
What sets Seacrets apart is its commitment to quality and innovation. Did you know that Seacrets has its own distillery? Seacrets Distilling produces a wide range of premium spirits right on-site. From vodka to rum and more, each sip embodies the passion and dedication that Seacrets pours into everything they do.
🍋 The Transformation of Hoop Tea to the Iconic OC Tea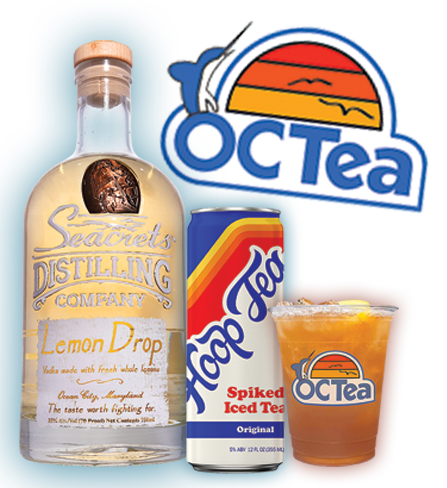 One drink that has captured the hearts of many is the iconic OC Tea. Born from the fusion of Seacrets' Lemon Drop Vodka and the classic Hoop Tea, this concoction is a taste of paradise. The zesty notes of lemon and the smoothness of the vodka create a symphony of flavors that will transport you to the shores of Ocean City with every sip.
🥂 Raise Your Glass to an Epic Labor Day Weekend!
This Labor Day Weekend, there's no better place to be than Seacrets. Join us for a celebration of music, joy, and the spirit of togetherness. Don't miss the chance to try the legendary OC Tea and immerse yourself in the vibrant atmosphere that only Seacrets can offer.
👉 For more details and to plan your visit, head to Seacrets Official Website and Seacrets Distilling. Get ready to dance, mingle, and create unforgettable memories this Labor Day Weekend at Seacrets! 🕺💃